Coco Avant Chanel: the new Haute Joaillerie collection
---
THE SEARCH for freedom, the de- sire for sobriety, the need for lightness. These are the foundations on which Gabrielle Coco Chanel built an entire career and the empire of a constantly avant-garde fashion house. Hers is a story that needs no re-telling. It is now common knowledge and set on the hearts of every woman who not only sees Mademoiselle as an icon of style, but also as an example of life. Her intentions and resolute character freed femininity from the confining clothes of the Belle Epoque, made up of corsets, crinolines and contraptions for hair. She took skirt length to below the knee, lowered the waistline, introduced the use of jersey and the famous 'à la garçonne' style, which never stops being contemporary. Renamed 'queen of the genre pauvre', a modern 'luxury poverty' and with an air of snobbery, Coco started a genuine revolution in the fashion world, promoted at the time by some influential female figures: singers, actresses, ladies of the court, who shared ideas and life moments with her.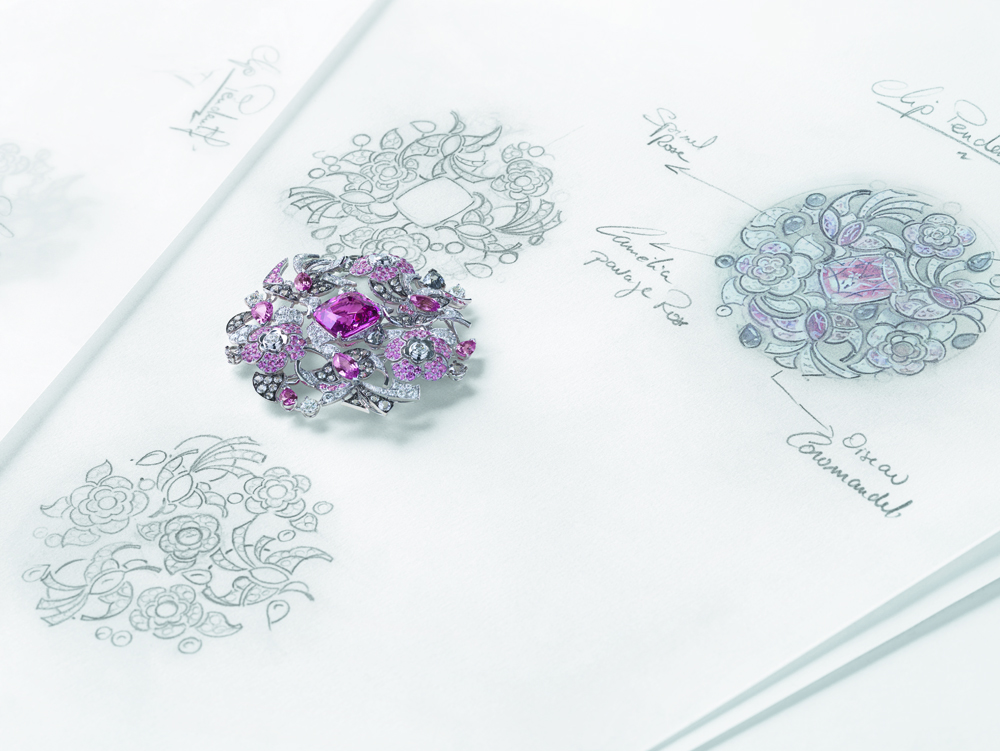 Coco started a genuine revolution in the fashion world, promoted at the time by some influential female figures who shared ideas and life moments with her.
THE ANTI-CONFORMIST spirit of those times, which consisted of innovative elegance and just a snippet of insolence, is alive again today in Coco Avant Chanel, the new Haute Joaillerie 2017 collection that the French Maison has dedicated to its founder and the women who mostly influenced and supported her career prior to 1920, re-evoking the designer's beginnings in forty-eight new items of exemplary beauty. Eleven new jewelry sets carry the name of a woman, a customer or a person dear to Mademoiselle as well as one named after the great couturier herself. There is her beloved sister Antoinette, the famous dancer and courtier Emilienne d'Alençon, Jean- ne Dyris, theatre actress and wife of Paul Iribe, Lucienne Rabaté, a milliner, well-known among the classy ladies of Paris, who became her faithful collaborator. And then there was the worldly Maud Mazuel, the sopranos Zina Brozia and Marthe Davelli, and the actress, Susanne Orlandi.
[gallery link="file" size="medium" ids="20120,20121,20122"]
THE ENTIRE collection is crisscrossed by delicate shades of white, pink and gray to reconstruct that sphere of femininity and pure, yet never ostentatious, intimacy that characterized Gabrielle's relationships with her friends, muses and allies. However, inspiration comes from two cornerstone elements of her style: lace and ribbon. Ribbon, a tribute to the famous straw hats she made at her on set, becomes precious thanks to the splendor of diamonds and reveals new shapes that transmit a strong sense of freedom. Lace, worked with new techniques, re-evokes images of nature as it comes back to life in spring, by designing camellias, flowers and tiny birds that follow the curving lines of the body.
IN A TRIUMPH of precious stones where spinels, moonstones, sapphires, rubies and morganites abound, there are also pearls, ranging from gray Tahitian to pinky-cream Japanese varieties and some warm shades of Padparadscha sapphires, gems of rare beauty in which orange and red merge into a unique color. The most valuable item bears the name of Gabrielle. An impressive necklace, embellished with a large central diamond which, through its lace camellia-shaped weave, is reminiscent of a collar. This special jewelry item was made following a lengthy process by the masterly hands of the artisans in the workshops in Place Vendôme. To complete the ensemble of the various sets of earrings, necklaces, bracelets, brooches and hairpins, are five outstanding fans mounted on white silk embroidered by Atelier Lesage, with mother-of-pearl inserts and gold and diamond trim.