With 2,000 editions of each design available, the brand is anticipating a sell-out, and pre-orders are available online from last April. Rihanna is known for her love of jewellery. She has now turned her hand to designing it in a collaboration with Chopard, which launches in this month. In fact, the nine-piece capsule range will be available in stores internationally from June.
Chandelier earrings from Rihanna Loves Chopard collection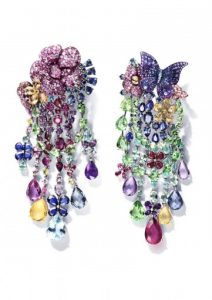 The popstar, who always wears Chopard jewellery on the red carpet, has teamed up with the top brand on a capsule collection of fine jewellery as well as one-of-a-kind high jewellery creations which were be showcased during the Cannes Film Festival in May.
Diamond earrings from Rihanna Loves Chopard collection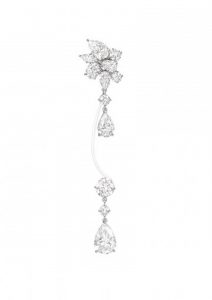 The jewellery pieces are inspired by the singer's home country and feature exotic floral designs and Carnival-style coloured gemstones, following Chopard's increasingly bold use of colour in its high jewellery collections. Rihanna has already debuted three pieces from the range: the extravagant floral chandelier earrings and marquise-cut diamond ring that she wore at the Grammys in February.
Sautoir from Rihanna Loves Chopard collection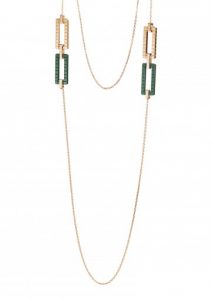 Rihanna has collaborated with Caroline Scheufele, Chopard's co-president and creative director, on additions to the Ice Cube range, that was originally released in 1999. The geometric designs see cubes of ethically certified Fairmined rose gold interlinked with ceramic blocks in Rihanna's chosen 'jungle green' - the first time Chopard has incorporated ceramic into the line.
Necklace from Rihanna Loves Chopard collection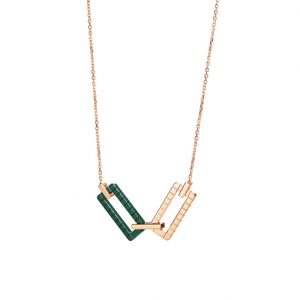 "Thank you to the wonderful Caroline Scheufele for such an unbelievable opportunity to create high end jewelry for the first time in my career," Rihanna wrote on Instagram. "Had a blast tonight at the official launch event for our collaboration."