A family history of goldsmithing, creativity and a passion for craftsmanship and precious stones, curiosity which goes beyond the national borders, this, in short, is the profile of Marco Bicego, a forty-eight year old entrepreneur who, in January 2000, created one of the most internationally sought-after Italian brands ·
His brilliant intuition led him to transfer elements of local goldsmithing traditions inherited from his father, to an elegant factory in Trissino, near Vicenza, where a workforce of almost eighty people work on collections which are innovative as well as traditional and include goldsmithing techniques from the past. The result is fine jewelry, with a contemporary flavour, in complete harmony with the creator's love of fine aesthetics. The building stands in front of the old family factory and is perfectly in keeping with the canon and style particular to Marco Bicego, who has been the heart and soul of the brand for the past fifteen years: «I strive to add continuity, skills and vision to the know-how I inherited from my father and enrich the experience ». Airy spaces, lots of natural light and a workshop where around eighty people craft «unique collections, using exclusive techniques in which local traditional goldsmithing techniques blend seamlessly with new techniques resulting from constant innovation».
Jewelry by Marco Bicego is entirely made in Italy, and is predominately made of yellow gold and semi-precious stones – often cut according to clients' specifications – which come from Brazil and India. The techniques belong to ancient local goldsmithing traditions which, through constant reinterpretation, have become essential distinguishing characteristics within the brand's stylistic identity. Each collection often contains two techniques in particular: the guitar string technique, a special twisting done by hand which adds movement to hand-engraving and creates a brushed effect which is also scratch-proof. These collections are inspired by «the imperfect perfection of nature. No two waves or petals or shapes are alike. The same goes for our jewelry: from the rings to the chains, they are all different. Irregular». Unique shapes in fact. This philosophy has managed to crack the international markets. Primarily the United States «which accounts for 40-45% of our entire turnover. »
The Marrakech and Lunaria collections are both iconic yet thoroughly representative of ancient goldsmithing traditions.
Marrakech, which showcases the guitar string technique, is celebrating its fifteenth anniversary this year. The designer is particularly attached to this collection because it was one of the first collections to represent the unmistakable balance between modernity and timeless taste, hallmarks of the aesthetic vision belonging to Marco Bicego and his creations.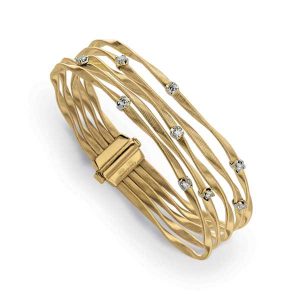 Marrakech Collection Bracelet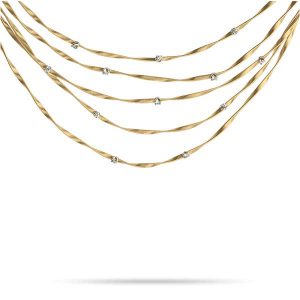 Marrakech Collection five-strand necklace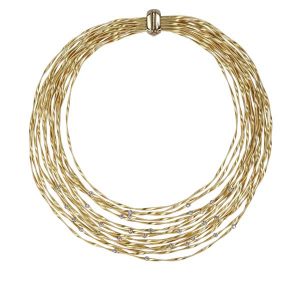 Marrakech Collection nine-strand necklace
Lunaria, launched last year, is inspired by the exquisite flower of the same name. The design of the entire collection boasts a pared-down, secret style, encapsulated in every tiny detail. The distinguishing characteristics of this collection, entirely hand-crafted from 18-carat yellow gold, are the delicate gold shapes which echo the gentle movement of leaves fluttering in the breeze.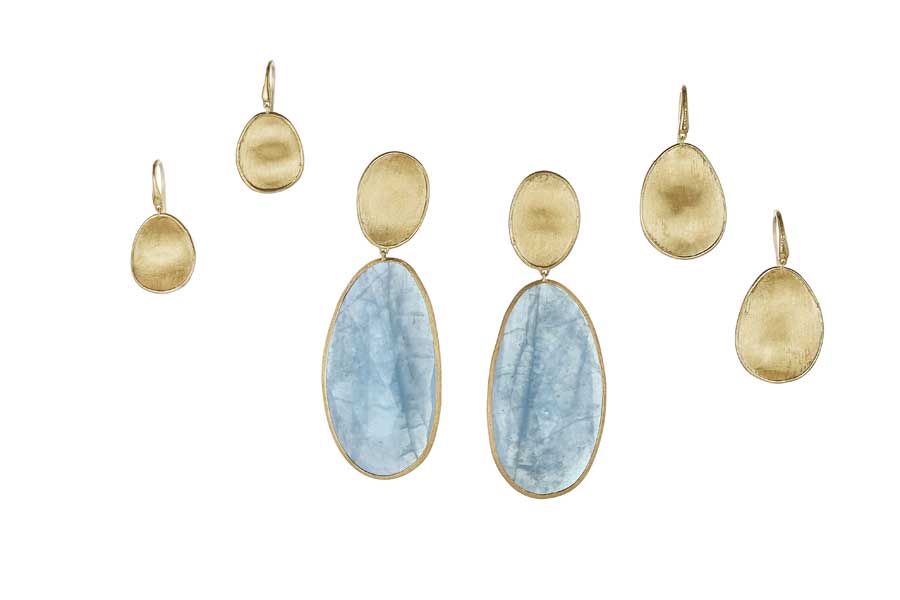 Lunaria Collection
Each intentionally irregular silhouette, is crafted by expert master goldsmiths. An elegant frame embraces the beauty of every single element and underlines its minimalist nature. The alternate sequence of irregular chains and hand-engraved elements adds inimitable grace to the collection, typical Bicego style. The entire collection has been crafted using the ancient chiselling technique involving a burin. For this entrepreneur, Lunaria is a true tribute to the maison's extraordinary heritage, which contains a sophisticated assortment of products, enriched by hand-set diamonds.
A world tour The brand has two distribution channels: jewellers and retail. A huge turning point in the distribution policy undoubtedly came from the launch of the first single-brand Marco Bicego store in the quadrangle of Milanese fashion at 5, Via Spiga. Following the international branches in Verona, Budapest, Mykonos, Crete and Tokyo – as well as a shop- in- shop in Harrod's in London and Harvey Nichols in London and Birmingham – the welcoming Milan boutique covers 60 m2, and boasts two windows which display the brand's whole universe, the iconic Goa, Jaipur, Marrakesh, Paradise collections as well as one-of-a-kind pieces specially designed for the store launch.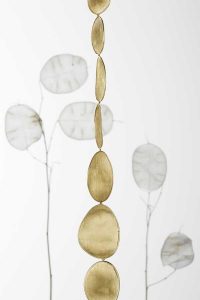 Lunara Collection_necklace
Pure imagination "Designing and creating jewelry was a natural change of direction in terms of my personal and professional choices. Working for the family business and deciding to become an entrepreneur to follow my dreams and aesthetic vision was an instinctive decision. Today, the concept of being Italian is still a crucial value for the brand, its ties with the local area as well as Italy as a whole, the celebration of ancient techniques are still important stages within the development of the collections. Nevertheless, my vision of femininity remains a constant, a tribute to the most elevated concept of beauty; the enhancement of elegance. A love of nature and organic curves complete the picture."
For this designer, jewelry is a byword for luxury and preciousness, the ideal client is a woman who makes choices based on her personality and lifestyle. Choosing and wearing a piece of jewelry is, in fact, an harmonious decision made with oneself, in accordance with one's individual style and taste.
Words Donatella Zappieri